Ignalina NPP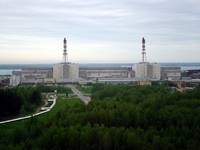 Ignalina Nuclear Power Plant was operating two reactors of the RBMK-1500 type (with the designed electrical capacity of 1500 MW each). On 31 December 1983, Unit 1 was commissioned. Unit 2 was put into operation on 31 August 1987. Ignalina NPP used uranium-erbium nuclear fuel for the production of electricity.
In accordance with the Protocol for Admission of the Republic of Lithuania to the European Union operation of Ignalina NPP Unit 1 was terminated in 2004. Unit 2 was shut down on 31 December 2009.
Both reactors are defueled. License holder – State Enterprise Ignalina NPP – has plans to defuel both units' spent fuel pools until 2022. Decontamination and dismantling activities of no more needed equipment are in progress.
Decommissioning of Ignalina NPP is pursued in accordance with decommissioning program approved by Lithuanian Government.
More information: http://www.iae.lt/en/
Updated: 08-02-2019